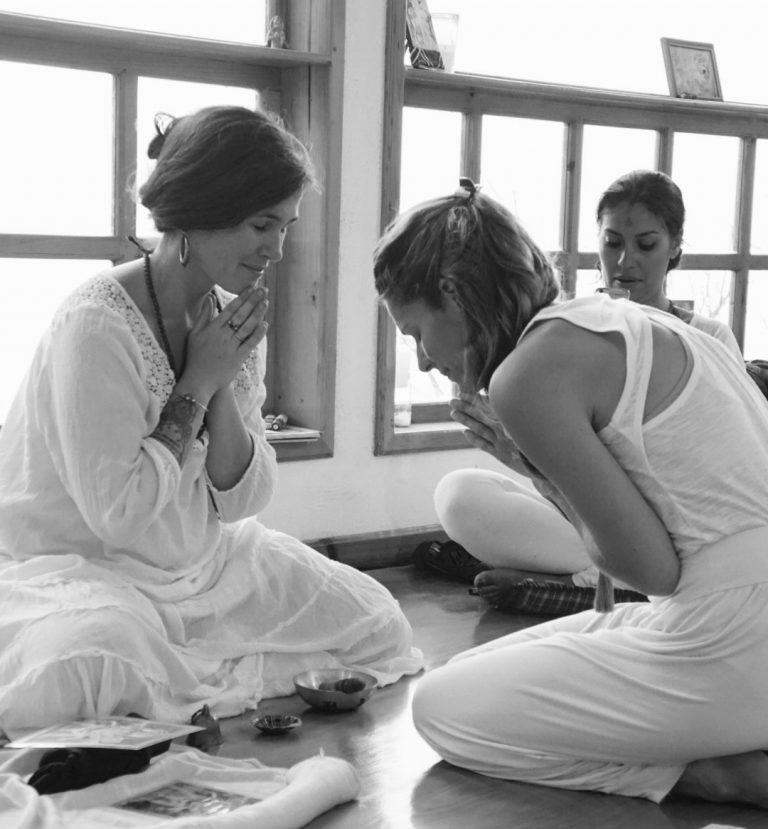 "What a beautiful place, what beautiful people! Generally I need some time in new groups to feel comfortable, but Arpita and Arjuna built this place with so much love that I felt at home right from the start. It is a true welcoming atmosphere, allowing and inviting yourself to be just the way you are and providing a safe space for healing processes and self reflection + self love.. I can recommend to visit them with all my heart! Thank you again, Arjuna and Arpita for your powerful sharings!"
"This was more than a teacher training. Offering a place for you to learn, grow, love, retreat, rest, and be held in nature. Arjuna and Arpita's heart of devotion comes through in every little detail of The Inner Peace Sanctuary and the course. This teacher training brought me back to the heart of the practice, reminding me why I love yoga and this community so much. Thank you for 5 weeks of stillness, beauty, presence, kirtan, the best cacao, and so much laughter and love.You will always have a full heart and full belly here."
"The ultimate questions you must ask yourself are: Am I looking for spiritual development? And, if yes, am I prepared to go out of my comfort zone and change my lifestyle to accomplish this? If your heart does not scream an emphatic "yes!" to these questions, then the ashram may not be right for you, and you may be better suited for a comfortable, all-inclusive Costa Rica resort that offers yoga as a side activity - and that's plenty fine, because that's honoring what you're looking for. However, if you're truly interested in being shaken to your core, are prepared to put forth an honest effort, are able to keep an open mind, and are apt to take what you learn in your short time abroad and apply it to your life long-term, then it is no coincidence you landed on this webpage. The guidance of two phenomenal, insightful teachers, Arjuna and Arpita, takes you on an internal journey to discover where you fit into this enormous, perplexing universe. By empowering students with the knowledge they need to develop all aspects of their yoga practice (as many as 8 branches if you're ambitious enough), the ashram takes you in wholeheartedly as a student, meets you where you're at spiritually, and gives you not just one, but a multitude of practices for you to experiment with and decide which customized combination best fits the unique person you are."
"A deeply transformative experience - I came to yoga from a very physical place initially, but my whole world was blasted open after sitting a training with Arjuna and Arpita. It became the start of a lifelong journey for me and as time passes, each planted seed from my training grows and grows. Always held in such a grateful and loving space in my heart."
"I can highly recommend doing the training with Arpita and Arjuna who are both incredible teachers. It's hard to describe in words what I've experienced during the training, but I left with a heart full of love and gratitude & a lot of knowledge about spiritual as well as yoga practice. The entire training is very well thought through, with a lot of personal involvement. The guidance and support of both is outstanding. Each day was different due to a variety of discourses, different practices, etc. To sum up, an incredible wealth of knowledge is provided by both of them! I would always do it again, and can recommend the training more than 100% to everyone who wants to become a Yoga teacher or who wants to dive deeper into spiritual practices."
"I couldn't have asked for better teachers than Arpita and Arjuna. They've created an incredibly beautiful and nurturing space to support students in experiencing the magic of yoga and developing the tools necessary to share it with the world. They both navigate ancient, complex subjects with finesse and authenticity, without losing sight of their place in modern times. The opportunity to experience an extended teacher training and the benefits of living sattvic-ly (including incredibly delicious meals) for five weeks was transformative for me. I only wished that it wouldn't end. Thankfully, the beautiful community I'm now a part of stays with me. If your intuition is guiding you here, I recommend following it."
"It's hard to talk about my experience, because words cannot describe how grateful I am for my time there. Arpita and Arjuna have manifested a safe, sacred container that allows those truly looking to engage in selfless service an opportunity to co-create a transparent, conscious living environment with other spiritual aspirants. I sat an 8-day silent meditation retreat over New Year's 2017, and then spent three months serving as a kitchen karma yogi. Afterwards, I participated in a 3-week tantric intensive. All three experiences prompted profound contemplation that opened my heart to love like I had never known it before."
"I wasn't exactly sure what to expect, but the experience far exceeded the expectations I didn't realize I'd held for the course. It didn't take long to realize that I had stumbled upon an experience that would be truly life changing. Within a week or so I felt like a new person, overcome with more trust, confidence, and positivity in myself and in the universe than I'd ever experienced. By the end of the course, I was truly equipped with the inner tools needed to change the way I continue on with my journey authentically and in greater accordance with my intuition and inner truth. Arpita and Arjuna are incredible, knowledgeable, and authentic teachers. I felt safe and cared for within their space. I have no doubt I'll be back at some point for another course or for a visit. If you're looking for an authentic and magical teacher training course, I highly recommend this one!"
"To take time to be. Being in touch with myself with nature, with others. Learn about myself, my position in the Universe and how I can interact with it. Eat healthy, sleep well, breathe, walk. Meet people, have fun. Discover the path of self-enquiry, meditation, devotion. Dance, sing. Grow food. Pray. Party. See it all happening at the same time in the same place without any struggle. Evolve naturally, until it overflows with emotions, ideas, energy. What impact could this have on my way of life? The right question is what impact might it not, and what actually after this experience remains the same? Be it a Retreat, a Yoga TTC or another course if this place came your way: Go! That's what I would say to anyone, as Arpita and Arjuna know what they do, and they are aligned with a higher intention that will make the experience worthwhile. In addition, the place is beautiful, comfortable and safe."
"I am not a vegan and was pretty worried about the meals that were provided three times a day, I was very wrong. The meals are nothing short of fantastic and amazing. I really had to stop myself from overeating on a daily basis, think you will go hungry, think again! Arpita and Arjuna are just amazing people, plain and simple. Their dynamic is so comfortable, and their presence so relaxing. The teaching style is very straight forward and understandable, and the daily distractions have been taken away making for a very solid learning environment. If you are eager to get away from the party scene and really make something of your studies, then this is the place. It surely wasn't my emphasis, but, the WiFi was definitely good enough to keep in contact with my friends and family back home on my time off. Everything is amazing about this place and I will never regret it. I missed this family the moment I left the doors."
"I myself came from a very physical approach to yoga and wanted to understand what the traditional yoga means, dive deeper into the practice before I start teaching it myself.

What we learned during the training is beyond all expectations I had. Arjuna and Arpita taught us how to practice yoga not just on our mats, but in day to day life. We emerged into asana practice, meditation, devotional singing, we studied yoga philosophy and anatomy. On top of that we learned how to contribute to a healthy communal live, how to have honest and clear communication, how to listen and hold the space for others and in general how to live an authentic life.

It's a big advantage, that this training is longer than usual YTTs. The five weeks went by super fast. Both teachers have a lot of experience in authentic, traditional yoga and have so many gifts to share. They are truly interested in helping you find your spiritual path and support you wherever they can!"
"After some weeks I'm still observing with amazement and infinite gratitude the effects of the practices learned through Arpita and Arjuna: I find myself with more love in the eyes, peace in the heart and an ecstatic excitement for the unfoldings of life's mysteries.
Thank you for holding such a safe and beautiful space! I can 108% recommend them as very reliable and inspiring teachers. Everyone who feels the calling to go deep; to connect and experience moments of oneness; who wants to explore the potentials of human existence and get nearer to truth: This is a very good opportunity to do so.
Actually whatever your journey may be, if your intuition guides you towards this training, I can strongly recommend following it! For me it has definitely turned out to be one of the most transformative and significant experience ever made! Feeling so lucky and blessed, I just want to share and only can say to everyone and everything that made this possible: GRAZIE DI CUORE !"
"This YTT has been the best decision in recent years! I was expecting to learn a lot, have fun, meet interesting people and relax/digital detox... And all of this was true. But at the same time so much more: Arpita and Arjuna have created something that probably embraces the traditional way of Yoga more than 90% of the Trainings out there! I feel like I have only been skimming the surface " doing Yoga" in the years before! Sounds cheesy but: I feel my heart is more open to give and receive love than ever before.
I will approach Yoga, Meditation and the other forms of the practice (and almost every other aspect of my life) more conscious and with a deeper devotion and feeling of really knowing WHAT and WHY I am teaching instead of just guiding some flow of postures.
I have learned so much about the science of Yoga, people, the world and myself and feel way more comfortable in following my intuition instead of getting stuck in my own head. I cannot thank these two great teachers and the other friends from my training enough for this opportunity to grow! Om Shanti"
Feel welcome to find Oh-so-many More Testimonials on our
Would you like to read some Very Personal sneak peeks right here on this page?
Then keep scrolling 🙂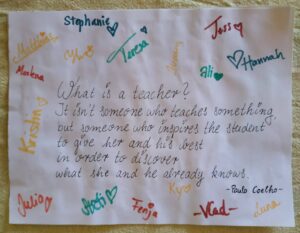 We don't want to overdo it 🙂
If you still feel hungry for More Testimonials hop on over to our