HOW DO I GET TO THE INNER PEACE SANCTUARY?
The Inner Peace Sanctuary is tucked deeply into the chestnut forests near Lucca, one hour away from both, Florence and Pisa. If you wish to visit the Sanctuary we do provide pickup from the train station on request.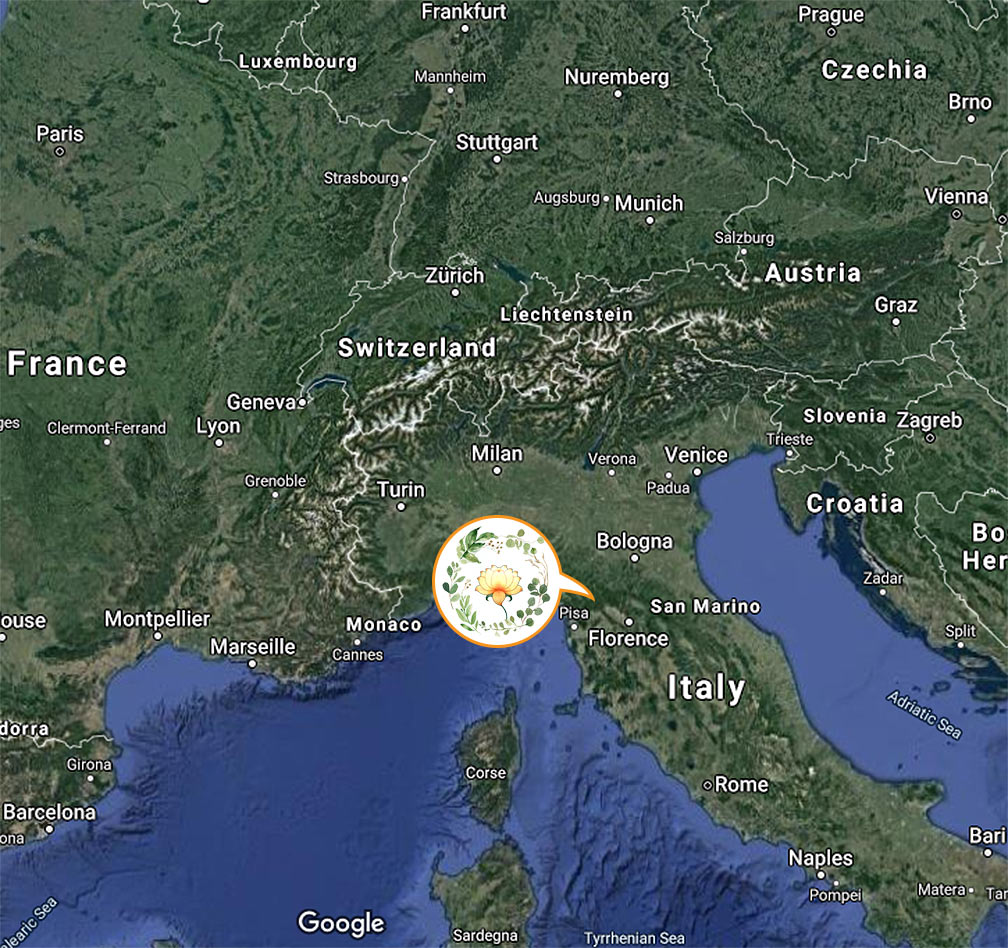 We will also send you detailed directions with your booking confirmation in case you arrive by road. This way we minimize spontaneous visits and 'drop-ins' to assure a peaceful and safe environment for spiritual life & practice.
WHAT'S THE CLIMATE LIKE?
The Sanctuary is situated at an altitude of about 700m/2000ft above sea level, which affords us a nice breeze in summer, keeping it pleasant from spring to autumn.
WHAT TO BRING?
– Your yoga mat
– Comfortable clothing including something warmer for the mornings & evenings, swim suit if you are planning to join the sauna or sunbathe
– Your personal products and supplements; as we are using some of the grey water for the gardens, and in any case all of it goes into the earth, we ask to use only nature-friendly body care products (biodegradable)
– Comfortable shoes for hiking around the forest
– Slippers for inside the house
– Flashlight/torch/headlight
– Notebook and pen
– Any sacred objects you would like to have with you
– Whatever you need for trips to Tuscan towns nearby, like some "city clothes" if you prefer
WHAT NOT TO BRING?
Kindly note that the premises are meat/alcohol/intoxicant free.
Bringing work with you is generally discouraged so you can enjoy and benefit from your time at the Sanctuary to the fullest.
We love children, however the Sanctuary is set up for adults only.
CAN I JUST COME ON A PERSONAL RETREAT?
We do offer personal retreats at certain times of the year, please reach out.
DO YOU HAVE WIFI?
Yes and no. To cultivate an environment of inner peace, contemplation and digital detox, wifi is available for only two hours per day for those who need it. During silent retreats there is no wifi, of course.
DO YOU HAVE YOGA MATS & CUSHIONS OR SHOULD I BRING MY OWN?
Meditation cushions are available. We do have a couple of backup mats on site, however this kind of thing is always nice to have personally, so please bring your own.
DO YOU OFFER WORK EXCHANGE OR SEVA?
Yes, please read this page.
ARE THERE ANY SHOPS NEARBY?
None. Being deep in the forest means it's a 45 min walk to a picturesque medieval fortified village of less than a hundred souls, which has no real shops or restaurants. The closest town with facilities is 30 min by car from the Sanctuary.