Mama India is strong medicine, she shows exactly what needs to be seen and experienced at this moment, turning it all up for us so we can truly gain a perspective on life and the ways we engage with it. She shows it all: the splendid and delightful, the devotional and compassionate, as well as the "ugly", the sad, the heartbreaking, demanding us to acknowledge that All is Life and this Full Spectrum is the embodiment of It, in all its different tastes, shapes and forms, beyond our judgement, likes or dislikes, beyond the "perfect" world we often strive to create for ourselves and so tightly hold on to. We like to say you don't travel India, she travels you , she moves and rearranges your inner tectonic plates like no other place does, until you come to rest in the only place there is: your own Heart.
For the 2020 Pilgrimage to the Motherland we are still working out some details, but here is the initial draft of what we called "Find your Inner Peace in the South of India"
This time we'll journey through:
Auroville: The world's biggest intentional/ spiritual community, hOMe of the gorgeous Mother Temple (matrimandir) and many sub-communities:
Tiruvannamalai: The hOMe of Holy Mount Arunachala, where the great sage Sri Ramana Maharshi spent his life as well as the stunning Annamalaiyar temple complex:
Kodaikanal: "The Gift of the Forest", Kodaikanal is referred to as the "Princess of Hill stations", where one can be deliciously immersed in nature's splendor:
Alappuzha: "The Venice of the East", the famous backwaters of Kerala where one can experience a different side of India, located only one hour away from Amritapuri, Amma's ashram: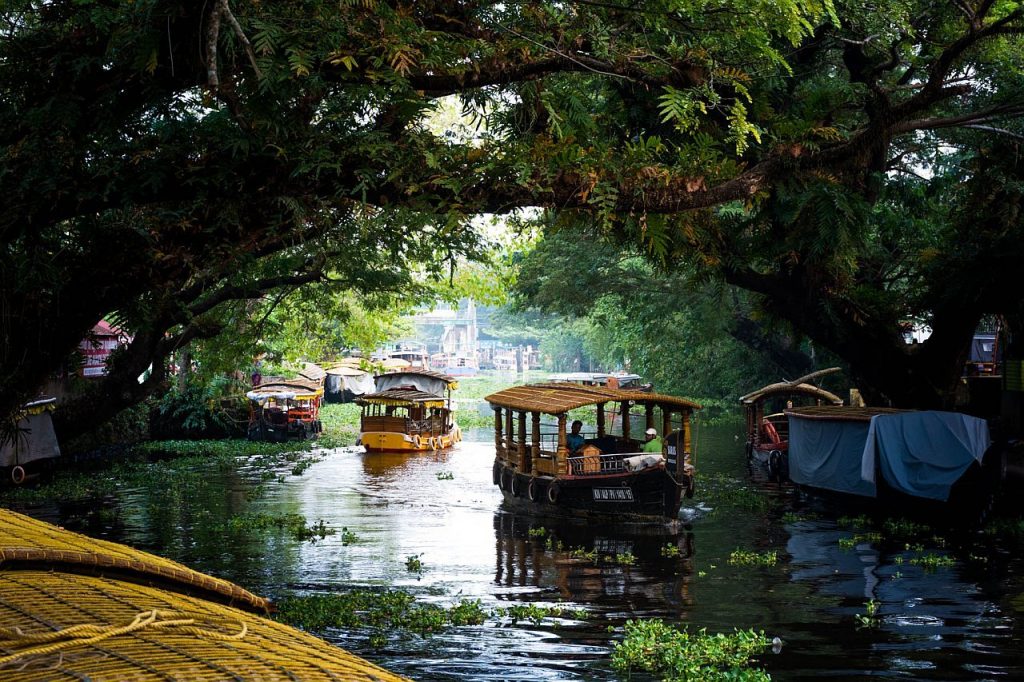 Dates
March 2021 (tbc)
Preliminary schedule
(subject to change for the even better)
Day 1 / Jan 10th Arrival in Chennai Jan 10th – Airport pick up 1 pm going straight to Auroville (2hr drive) – Settling in – Opening Circle – Dinner
Day 2/ Jan 11th Morning Practice – Breakfast – Auroville tour and Matrimandir
Day 3/ Jan 12th Morning Practice – Breakfast – Leaving for Tiruvannamalai (2hrs drive) – Settling in – Lunch – Visit of Sri Ramana Ashram – Dinner
Day 4/ Jan 13th Morning practice – Breakfast – Visit of Skandashram and Virupaksha Cave – Free time – Dinner
Day 5/ Jan 14th Morning Practice – Breakfast – Girivalam/ Circumambulation around the mountain and visit of Arunachaleshwar Temple – Lunch – Moving to Anantha Niketan Ashram for Silent Day
Day 6/ Jan 15th Guided Silent Meditation Day until 6 pm – Sharing Circle – Dinner 
Day 7/ Jan 16th Morning Practice – Breakfast – quick stop at Ramana Ashram  1hr – Lunch – Leaving for Kodaikanal on AC night train
Day 8/ Jan 17th Arriving Kodaikanal – Breakfast – Settling in and Free time – Lunch – Rest and Hatha Yoga class – Dinner 
Day 9/ Jan 18th Morning Practice – Breakfast – Tea plantation tour/ hike – Lunch – Kirtan/ Devotional Chanting afternoon – Dinner 
Day 10/ Jan 19th Morning Practice – Breakfast – leaving on AC night train to Thiruvalla + van to Allapuzha/ Marari beach – Settling in – Lunch – Rest and late pm Hatha Yoga class 
Day 11/ Jan 20th Morning practice – Breakfast – Exploring the surroundings
Day 12/ Jan 21st  Morning practice – Breakfast – Backwaters day tour + Heart Circle 
Day 13/ Jan 22nd Early Breakfast – visit of Amritapuri/ Amma's ashram day (1.30h drive)
Day 14/ Jan 23rd Morning Practice – Breakfast – Leaving for Kochi (1.30h) drive – drop off at Kochi International airport at 12 noon – Goodbyes 🙂 
Earliest Bird: USD 1,555 for twin/triple shared occupancy
Including all accommodation (shared and simple), all transportation within India.
Single rooms $444 extra.
Not including transport to and from India, insurance, visa, meals.
There are only 12 spots available for this journey of a lifetime, please secure yours early to avoid disappointment. A $777 deposit is required upon booking and non-refundable due to name-bound pre-bookings we are making for you. Booking closes on ___. Payment of the second half is due by ___. If the second half is not paid on time the spot will be given to the next person interested, the first payment is then forfeited.
BOOKING IS NOT OPEN YET

For questions you can also contact us with Whatsapp – Chat Now